Koldkraft is the pioneer and market leader in the manufacture of Cold Store in Pakistan. Koldkraft started manufacturing cold stores on modern and latest technologies since 1985.
With a complete in-house manufacturing, installation and design team we can deliver project of any size and capacity in fastest time with highest of the standards thanks to our agile manufacturing techniques and integrated operational systems.
During design and manufacture special consideration is given to the efficiency of the system along with the total lifecycle of the equipment. The result is an optimizes solution which is appreciated by our vast local and multinational clientele.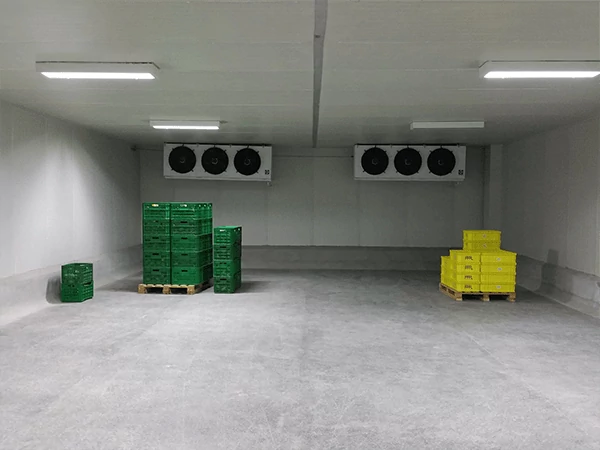 &nbsp
Insulation for Cold Store (PUR Sandwich Panels and PIR Panels)
Efficiency of the Cold Storage depends on the insulation of the Cold Store. Koldkraft being the first PU Sandwich Panel Manufacturers in Pakistan has gained vast knowledge in prefabricated sandwich panel systems. Our industry leading panels are excellent for usage up to -40'Celcius and has the highest performance in the market.
PU/PIR insulation panels is a composite prefabricated building material. It is made up of a rigid core sandwiched between two metal sheets. The rigid core is made of polyurethane which is known for its excellent heat insulation properties. Polyurethane is the most widely used insulation material for cold-rooms and energy efficient buildings. Typical construction consists of sandwich panel walls, sandwich panel roof and floor.
Pu sandwich panel is optimum for hygienic conditions. The panel satisfies all HACCP and international standards for food processing and storage. This make PU sandwich panel rooms ideal choice for the storage of Meat, Fruits, Vegetables, Medicines and Vaccines in the Cold Stores. The panel's smooth surface finish prevents any bacterial growth and can be easily cleaned. The panels are completely waterproof and air tight which prevents any air leakages.

Cold Room Refrigeration System
Cooling in a Cold Room is provided by split type refrigeration system. It comprises of an indoor and an outdoor unit. Koldkraft specializes in design and manufacture of cooling systems. The system is designed with special consideration to local environment of Pakistan. Our system outperforms and gives much better performance compared to Chinese or Italian units. Koldkraft units incorporate latest German compressors which are the most efficient compressors in the world.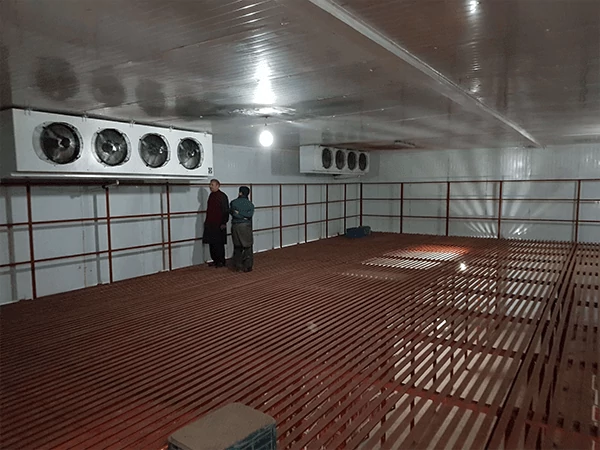 Our systems have built in safeties to protect against unstable electric supply. The condensing coil is made of heavy gauge pure copper tubes which increases heat transfer as well as prevents leakages. All Koldkraft Refrigerating condensing units have a sub cooler system to increase efficiency. Koldkraft Refrigeration condenser models range from 0.5hp up to 80 hp
Applications for Cold Store
Cold Stores are primarily used for the safe storage of temperature sensitive products such fruits and vegetable, dairy, meat and poultry and medicine. Application varies from temperature control to blast freezing and blast storage.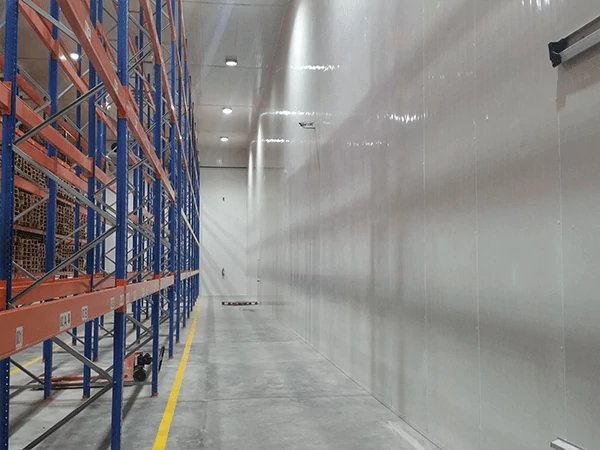 Koldkraft has a team of experienced engineers who can design cold storages as per the requirement of relevant applications of any size whether large or small. Koldkraft can design small cold storage or mini cold storage as per the requirement.
Fruits & Vegetables Cold Room Including, Potato Cold Storage, Egg Cold Storage, Date Cold Store, Pulp Cold Storage
Fruit and vegetables are delicate and require care to maintain its freshness and taste. And for this reason, you should not leave to chance the careful temperature control and gentle product handling in the chilling or freezing. Koldkraft Refrigeration makes sure that fruits and vegetables stay fresh for longer and retains its premium quality for export.
We also provide systems to control humidity, CO2 and ethylene levels in a storage to maintain the highest quality of product.
Meat and Poultry Cold Store
After slaughtering, the Cold Chain begins to maintain quality and freshness of the meat. Effective cooling and freezing of meat and poultry is essential for marketing to consumers. Furthermore Koldkraft Refrigeration ensures that the cooling system is energy efficient so they are cost effective while delivering outstanding performance. Our experienced engineers work out the suitable refrigeration technology for every kind of meat and poultry.
Ice Cream Cold Storage
Ice Cream is the most temperature sensitive product. When it produced from a continues freezer its temperature is -5°C. It is important to immediately to bring down the temperatures to below -18°C.
This is done in a hardening room or spiral freezer at -45°C. If the temperature is not immediately pulled down the ice cream losses it texture which leads to crystal formation. After the temperature is pulled down the ice cream is stored in a Cold Store at -22°C. KOLDKRAFT offers complete ice cream freezing & Storage solutions to maintain the highest of quality & texture of ice cream.